Mine-Gate to Mine-Gate: Load-in at Black Mountain Sand
One of the benefits of Black Mountain Sand's in-basin sand is its predictability. When our customers need it, we have it. Our frac sand is produced on property 24/7 and is fed directly from the dryers into our silos for immediate deployment to the wellsite.
Here's a look at Black Mountain Sand's load-in system, mine-gate to mine-gate, one truck at a time.
Truck Prep, Check-in & Load Lane Assignment
The first stop after entering the facility grounds is the safe rack, a catwalk structure that provides access to hatches located on the top of the trailers and/or container systems. These hatches are opened as needed to facilitate sand load-in at the silos.
Upon the first visit to a Black Mountain Sand facility a truck's identification number, company information, and weight specifications are recorded.
An RFID badge is then issued to help expedite future entry. Drivers simply scan their card, type in the unique order number, and proceed directly to one of eight load lanes.
Specially-designed software assigns each truck a load lane and silo position based on existing traffic patterns, load-in progress, and sand inventory.
At the Silo Load Lanes
The truck proceeds to its load lane.
Once the truck is inside the proper silo, a spout is lowered and the trailer/container is filled with sand. It takes approximately 2.5 minutes to load each truck with twenty-three tons of sand.
As the truck pulls forward, its exit weight is recorded, which helps ensure it has received the proper amount of sand and does not exceed weight limitations.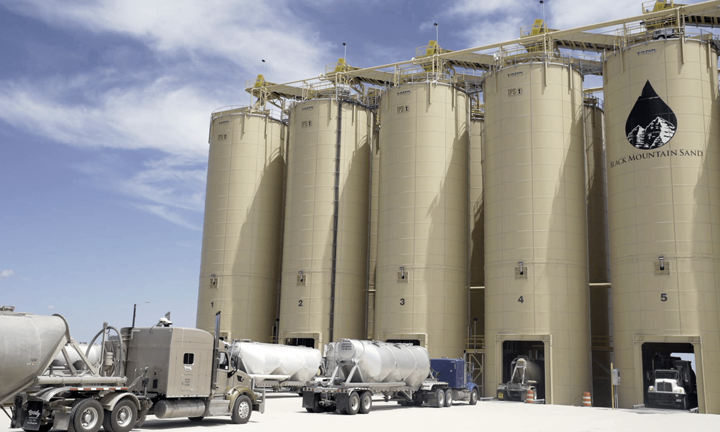 Exiting the Facility
The truck follows the exit route back to the safe rack where hatches are closed as needed.
While the hatch is being closed, the driver scans his card again, which automatically triggers printing a Bill of Lading.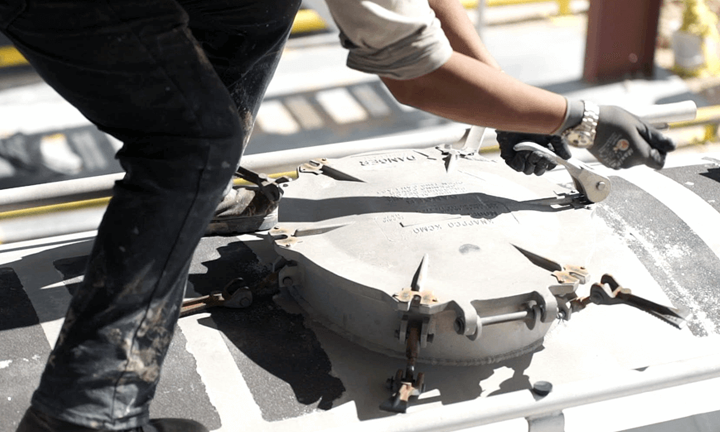 All told, the average truck load-in time at our facilities, mine-gate to mine-gate, is ten minutes or less.